EXCLUSIVE INTERVIEW - MUSIC & MORE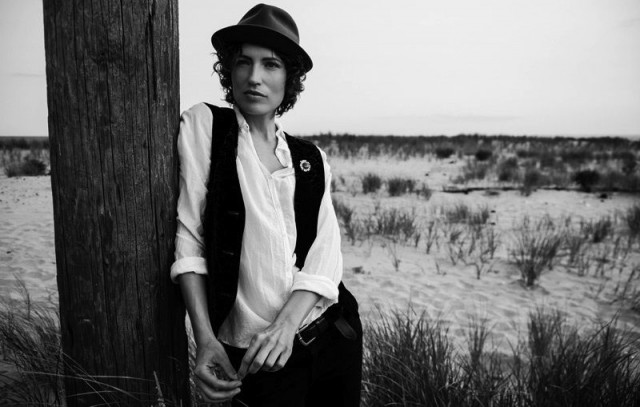 By Rory Winston
Upcoming artist…? Damn. The girl's been around since - Come to think of it, she's a lot younger than me which is weird because it feels like I've known her forever
The aforementioned quote is from a Finnish friend whom I had recently queried about the local response to
Janita'
s growing success abroad. After the spate of very positive reviews accompanying Janita's recent US release, I had decided to ask those in her country of origin about how they view her development.
Speaking on the condition of anonymity, a Helsinki based pop producer confirms my suspicions, "If Janita were the next Alicia Keys, we'd probably be the last to acknowledge it. Don't forget, she was a mega-star here at the age of 13". With an embarrassed smile he adds, "Look, I know she has a remarkable tone. I hear that. We all hear that. But audiences in Finland don't trust their ears – at least not enough to get enthusiastic about anything until someone from the outside tells them its okay to like it. This is especially true when it comes to Finnish singers abroad. Once they leave Finland, their popularity at home grows in direct proportion to their acceptance internationally. No joke. Even the big time local critics here are dead scared to voice an opinion. Their biggest fear, as you noted yourself (he is referring to an earlier article I wrote on Finnish Art reviewers) is looking stupid. So experts here stay experts by not saying anything. No statements no risks. We all kind of wait for Rolling Stone or NME to tell us when it's okay to like our own mothers."
Besides the 'no man is a prophet in his own land' issue, Janita faces a more pernicious ordeal: she'd evolved beyond the easily digestible image to which her childhood audience had grown accustomed. While Finns can easily imagine their country's very own Destiny's youngest Child (sic) blossoming into a blond Beyonce after hitting the global circuit, they have a harder time understanding that Janita's own destiny lay elsewhere – namely, in the creation of extraordinarily powerful and evocative compositions the likes of PJ Harvey, Tori Amos and Fiona Apple.
Since her recent work begs comparison not to the myriad of prepackaged pop icons but to the select few artists capable of creating an idiosyncratic musical realm of their own, Janita's become an oddity – an as yet unknown commodity – for those who had once celebrated her as a child prodigy. She is clearly no longer the girl whom Finns expected would one day sail back to Helsinki on the Good Ship Lollipop dressed like Ariana Grande while sporting a Shirley Temple smile.
"That said", my Finnish source adds, "There are literally hundreds of thousands of Finns who secretly follow Janita, listen to all her songs, watch her videos... mostly because they still like her so much even though no one abroad has given them the green light to officially feel that way. In a way you could say, they haven't come out of the closet recently but they are there in droves."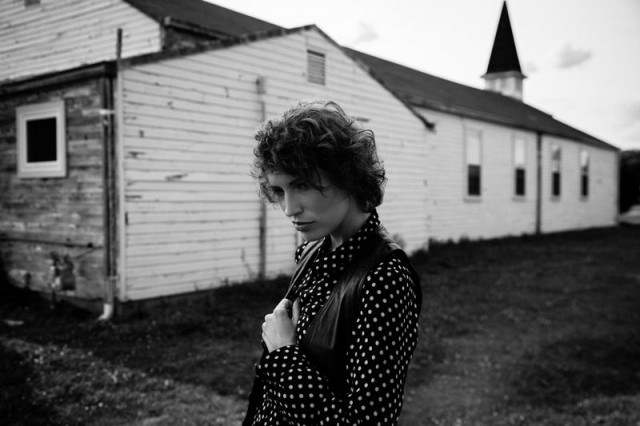 BACK TO THE SANDBOX
For every Fiona Apple and Aimee Mann, a Jon Brion; for every Beck and Radiohead, a Nigel Godrich; for each creative musician with a signature sound, there exists the producer/musician who - rather than insisting on a certain direction or relying upon an amalgam of easily employable stylistic devices – creates just the right amount of space in which an artist can hone in on his/her identity and see their given artistic persona for what it is. For Janita, Blake Morgan is just such a catalyst.
Eliminating the extraneous, imbuing each aspect of Janita's music with the personality of its creator, Morgan enlists the perfect blank space in which Janita can speak. Didn't You, My Dear? is the culmination of a lifetime of music, a series of life-altering experiences – all of which are thrown into a vacuum (i.e. a space where no musical preconceptions exist) and given infinite time to combust (okay, so in the music industry this translates into approximately two years). The result: a personal collection, part—monologue part-poem, part-story part-mood piece, part history, part projection, reflection… and just the right dose of self-deception for a suspension of disbelief. The album is the embodiment of the author's voice. Sans filters, sans enhancements, this is Janita – as unadorned as bedazzling, both straightforward and complex.
Prior to the album's completion, Janita had already been the recipient of numerous accolades. Everything from her voice and appearance to her writing skills had been praised by everyone from the village Voice to Billboard to Daily telegraph to Marie Claire. In addition, Janita had immersed herself in Blake Morgan's #IRespectMusic crusade - an ongoing effort to ensure that all US singers (rather than just songwriters) be paid royalties per radio play (Janita herself suffering major financial losses moments after becoming a naturalized American citizen as her new status eliminated a major source of her revenue).
Though it's often hard to see cause from effect in the life of a creative artist, the last few years had left a distinct mark on Janita's sensibilities. From her fully engaged political activism to the turbulent changes in her personal life to her ever-shifting taste in art, a case could be made that any number of particulars contributed to the sense of rebirth that overwhelmingly marks her recent album. One thing is clear: listening to Janita divest herself of all pop iconography while delivering an emotionally urgent but sonically luxuriant totality is like witnessing the sort of pronounced paradigm shift that Tori Amos must have undergone when making Little Earthquakes. Raw but sophisticated, charged but chill – the dualities alone invite inspection.
Having been in regular contact with Blake Morgan, I cut to the chase and ask to be put in touch with Janita for a one-on-one. After all, when an artist of her caliber is undergoing a major transformation … well, needless to say, I wanted to get to the source.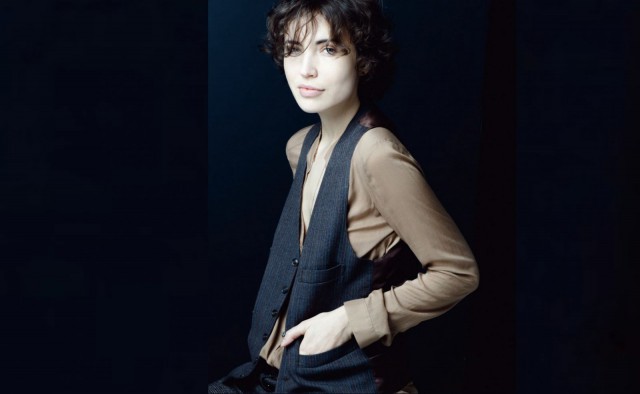 THE SOUND of a SOUND MIND
Janita appears like a coil of tall thin lines woven into a gracefully boyish form. Imagine a young Maria Tallchief dancing the part of David Bowie in a newly choreographed ballet - grace and sensuality rearranged in an androgynous form. As she speaks, her long busy fingers move through the air with the certainty of a chiropractor adjusting time's invisible spine. She is an elusive presence – her voice, an odd dichotomy of yearning and rapture in equal measure.
"Honestly, I've changed and evolved so much during the making of this album", Janita says in response to my impression about how different and unexpected the moods and chord progressions are on Didn't You, My Dear?. "The fact is", she says nonchalantly, "I really wrote everything on this album myself". By way of explanation, "It's very different from how I worked previously. In the past I've always collaborated on songwriting with others. This meant that the musical starting point––even the chords––came mostly from them. I didn't play guitar back then, and I was very shy about my piano playing, hence I relied on others. "I'll Be Fine" was the first album where I was writing melodies and lyrics to each song. That, and my album "Seasons Of Life" were collaborative efforts with my musical partner at the time. With Haunted I started transitioning into more independence as a songwriter, and on my new album I wrote everything myself. It all came from me, and that was hugely empowering! I really got to embrace my own musicianship, and felt independent as an artist. So it's really been a natural progression. I arrived at a place where it felt right to do it on my own, and right now I think that's the best way for me to work as a songwriter."
If ever a beautiful Hollywood starlet were required to play Ute Lemper in a biopic, Janita is probably what she'd look like – remote but intimate, certain but ever ready to interrogate her motives. "The approach, whether production and arrangement altered or effected my initial vision…?" Janita repeats my question as she looks passed me introspectively.
"Well, the foundation was all in the compositions themselves", she announces as though visualizing the process.
"When I play guitar", she goes on, "it's done in a kind of unique fingerpicking manner most of the time so in a sense the arrangements are there to be discovered more than invented."
Then in full throttle, "Of course, there was a production vision that I had, and Blake Morgan, my producer, helped me focus it, and realize it. When we were first starting out, we actually put a bunch of index-cards on the floor, and wrote different key-words on each of them, like "Beautiful Ugly", "Raw", "Dance-y," along with specific references to influences and even instruments: Telecaster, Upright piano, Tube-preamps. Whether specific, or general in nature, those keywords informed the direction that we ended up going in. And we would refer back to those cards during the recording and mixing, to see if we were on course with the vision we'd set out to realize."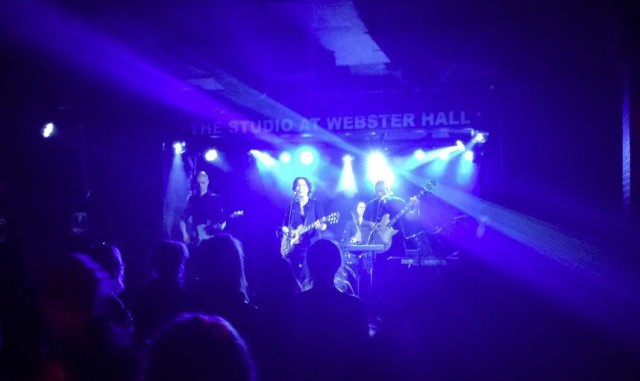 IN ONE EAR
Uncertain about her influences, I ask whether the discernibly new direction is a result of recent exposure to different musicians (i.e. Tori Amos, Fiona Apple etc.) or something to do with her producer's predilections for certain chords or moods. "Those are all great artists you've mentioned", says Janita, "but when it comes to the compositions… unlike in the past, the chords and harmonic material on the record are entirely my own. So that may be one of the things that you're hearing. That said my taste in music has broadened quite a bit in the last five years. Radiohead is certainly a favorite of mine––a huge influence––and has been for quite some time. But I've also listened to a lot of Beck, Blonde Redhead, Neil Young, Elliott Smith... It all gets in there. Including, of course, Tom Waits which led me to cover his great song, Clap Hands, on the new record."
Incidentally, Clap Hands as interpreted by Janita is utterly devoid of Waits's characteristic phrasing or guttural tone. It is an authentic rendition rather than an effete homage - as if the lyrics evoke moments from her own life, as if each image were a refugee from her own imagination, one that finds a new home in her voice.
As Janita had moved to New York – and more specifically to Brooklyn - in 1996, I am forced to ask whether the then upcoming Williamsburg Indie Music scene with bands like TV on the Radio, Yeah Yeah Yeahs, M.I.A gave her lots to think about.
"There are certainly some bands from that scene that speak to me", says Janita, "But I never sought it out per se. My life was very isolated from all of that at the time, even though I was living in Brooklyn throughout. I never lived in Williamsburg though. I live in Windsor Terrace now, which is only recently being taken over by a hipster-y, younger crowd. Before that it was a very residential neighborhood. Just so you get a picture, the movie Smoke was filmed just around the corner from me. I like my peace, I like my Prospect Park, and have never really wanted to be in the middle of all the madness. Hehe. I'm a lone wolf, dude."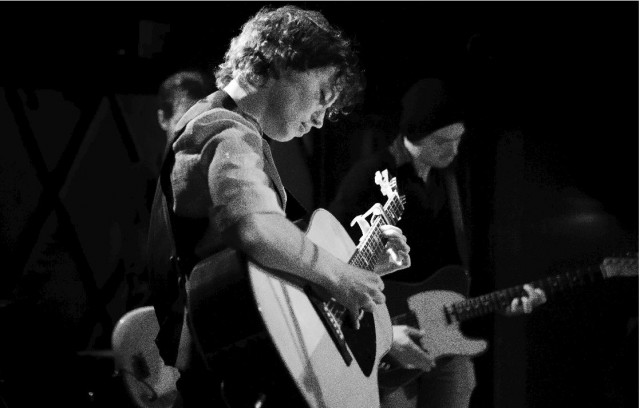 UNDER THE INFLUENCE
"The artists that move me the most", explains Janita, "are often those that get underneath my skin through a combination of music, production, and particularly lyrics. I'm a sucker for lyrics! Most recently, I've been moved by a band called The Punch Brothers. The musicality and the excellence of every member in that band is staggering. And they touch me as deeply artistically as any artist ever has. I literally bawled at a concert of theirs recently! Over the last few years artists like Patty Griffin, Tom Waits, and Jesca Hoop have made me similarly emotional."
As for how important a role lyrics play in Janita's own music, "I usually write a bunch of lyrics over a long stretch of time. Then, one day when I come up with a musical idea that inspires me, I'll go back to my book of lyrics, and see if there's something that belongs together with the musical idea. There almost invariably always is. They come from the same place, don't they? That's why I usually end up writing the melody too. Because I have access to the lyric!"
"Fortunately or unfortunately", she continues, "These days, I think that I express myself better in English than I do in Finnish. I don't know when that happened actually... It's just a matter of usage, and day-to-day practice I think. I've lived over half of my life in the States now, you know. It is shocking how rarely I get to speak Finnish nowadays! I do think it's a wonderfully rich language for lyric-writing though, and writing in general. I just haven't really gotten to try my hand at it very much."
When asked whether she – in the vein of Morrissey (or Bertolt Brecht and Kurt Weill) - ever consciously uses contrasting lyrics and music to simultaneously say emotionally opposite things, Janita is quick to respond in way that was both utterly unpretentious but filled with a passion for experimentation, "I like the idea of tension between the two (lyrics and music). I do frequently end up creating contradictions with music and lyric, but I'm operating from a rather instinctual place. My intuition as an artist is perhaps my strongest attribute. I often understand things on an emotional level, not necessarily on an articulated level. I am self-taught in much of my craft as a musician."
BETWEEN THE LINES
As with many autodidacts working in the world of art, Janita regularly applies things she learns from other disciplines – her development marked by sudden leaps rather than smooth and steady growth.
"I get a lot from other arts. I have really gotten into Aaron Sorkin's work (The West Wing, The Newsroom, Moneyball, Social Network…) over the last few years. The fast dialogue, the idealism, the humor, and the witticisms have inspired me, and I find that watching his movies and TV-shows sharpens me intellectually. I find the psychological and emotional depth in Christopher Nolan's movies (Batman, Inception…) compelling. I'm also a bit of a science geek, so the scientific content of his movies excites me as well. Mostly, I like it when an artist forces me to grow and expand in order to truly absorb their work. I like being challenged, and I find that all of the people that I just mentioned push me in the best kind of way. But in truth I am inspired by so many kind of artists, that I could talk endlessly about the subject. Art is essential to my life."
THE PLAYS THE THING
Speaking with a fervor ordinarily reserved for one's own work, Janita enthusiastically relates her recent passion: "I've fallen in love with Tom Stoppard – amazing playwright, really… I'm thinking, in particular, about his play Arcadia. I also recently saw (Samuel) Beckett's Waiting For Godot on Broadway. It may very well have been the best play I've ever seen!"
When it comes to her evolution as a songwriter Janita explains, "There's a quote by (Anton) Chekhov that I think about a lot: 'If you want to work on your art, work on your life.' And I have done just that. I think my lyrics really show the change that's happened in me as a person. I think about things very differently than I used to. And so, I write about them differently too. The artists I most admire evolve, and I want to do that as well."
VOICE WITHOUT CHOICE
When asked about the enormous swing her artistic development took and the changes it underwent in terms of genre, Janita patiently explains, "There have been a lot of people who have connected with my past work, and I respect and appreciate that. I will say though, that due to the young age I was when I got into the business, I didn't get much of a chance––in fact at times I wasn't allowed––to figure out who I was as an artist, or quite frankly, as a human being. That's why I got into a dynamic of being easily molded and led by other people, and the music industry. Had I had that chance to really listen to myself early on, my art would certainly have found a different direction sooner."
Then after a slight pause, Janita emphatically states: ""When I came to the States with my very ambitious musical partner, at the time, I'd already been working with him for three years. He was really running the show. I'd just turned 17, and was just going with the flow. However, it is this very journey that has led me here, and just as I respect and appreciate that others have connected to my earlier work, I too respect and appreciate that work as well. Without it, I wouldn't be who I am now."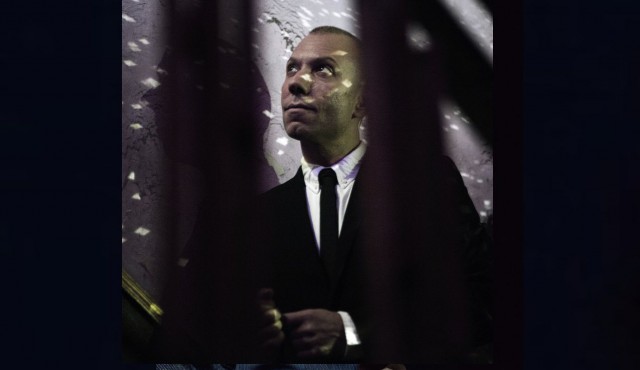 THE MUSE IN MUSIC
Since there is a discernible difference in Janita's work from the moment she joined Blake Morgan's ECR Music Group, I ask her to explain how they met, how her music changed as a result of their interaction and and what defines their collaboration.
"I met Blake through a mutual friend, and an old bandmate of his, Marko Ahtisaari (Jazz musician and entrepreneur son of the renowned former Finnish President and Nobel Peace Prize laureate Martti Ahtisaari) . We were sitting next to each other at Peter Gabriel's Witness Organization's gala-event where Marko had invited both of us. I had happened to bring my album with me, and we exchanged music that night, and had a nice conversation. I also sang a snippet of Ain't No Sunshine on the limo-ride to the after-party. Blake got in touch with me soon after with ideas about working together. A fateful night indeed", she says with genuine emotion.
"Though Blake Morgan wasn't actually part of the recording process on Haunted" Janita continues, "He did edit and master it which made a huge, positive difference. He made sure I was much more hands on that album. I guess that accounts for the change in sound."
After a moment's reflection, she adds: "I have to say that it is extraordinary working with Blake. He's taught me an unbelievable amount. And I mean that in terms of recording, production, performing, rehearsing, leading a band, you name it. He's opened my eyes as to how much vision there can be in all areas of an artist's career. And with vision comes decisiveness. Also, he's helped me understand the production process in a new way, so it's not some foggy business that I have no clue about. And he encouraged me to play instruments myself as much as possible, and I did! On the new album I'm playing about half of all the electric guitar tracks on the album, all of the acoustic guitar, most of the percussion, most of the piano, and all of the singing. I've never played any instruments on my records before! He wanted me to not only be involved, but hands on every step of the way, and that is the polar opposite of anyone else I've ever worked with. Here too it has apparently been in the best interest of others to keep me in the dark."
In an effort to explain, Janita continued in a very heartfelt way: "You will never find a more ethical soul in the music industry than Blake Morgan. He is such an advocate for artists, and for artistry, that he's even managed to open my eyes to it in a new way. After my many challenging experiences in the music industry, it was a breath of fresh air to work with him, and to learn about so many things. I think that much of some, if not most of record labels' power is based on the artists' ignorance about the way things work. There's a Chinese saying: "Give a man a fish, and you feed him for a day; show him how to catch fish, and you feed him for a lifetime." Blake has really taught me how to fish. Most other labels would be horrified at an empowered artist who knows how things work."
When I comment about how the mixing in Didn't You, My Dear? sounds very decisive as opposed to her earlier Finnish albums (which suffer from a over-democratic 'everything getting equal importance' approach), Janita says "Blake Morgan's philosophy of mixing is pretty simple; it's as Bowie said: you turn the good shit up, and you turn the bad shit down. Of course, mixing is incredibly nuanced and an art all on its own, but I think that Bowie quote resonates because it humorously boils it down to just that one idea. And, at its heart, it sounds about right to me... I don't think that democracy should be the starting place when it comes to art. Vision is unilateral."
MUSIC TO OUR EARS
From Haunted – an album Janita considers more of a transition album in that "I was much more involved in productions and arrangements throughout than ever before, but I had yet to find the nurturing musical community that I'm part of now" – to Didn't You, My Dear where everything about the music is very much her own, Janita has exponentially evolved both as a creative artist as well as a person. As she explains "I am proud of the woman who made Haunted. She was incredibly brave to go through all of that. But still it comes from a rather dark place whereas the recent album comes from a righteously defiant one. Didn't You, My Dear? derives from empowerment in the purest sense."
With a newly born insouciance, Janita has an utterly unfiltered response to my question about who her ideal artistic partners could be: "I think that Beck would be an interesting duet partner. I am drawn to a wide variety of music styles, and I connect with his hip hop influences, just as I connect with his Serge Gainsbourg stylings. I also think that our voices would potentially mix in a cool way." As for genre or style, "Something on the orchestral side would be interesting to try. A mixture of classical, electronic, and voice. Wouldn't necessarily even have to be lyrics; just something atmospheric and bold."
"As for now," says Janita as an afterthought, "ECR Music Group and I will be promoting this album all year. I have a gorgeous, and powerfully artistic and emotional video in my back pocket, which I look forward to releasing."
Janita gives way to a larger than life smile as I ask if music for her is a place to express emotions, work out problems, or escape into. Then as if caroming off some hidden melody, she tilts her head sideways and thoughtfully announces, "You know. It's funny. It's all of those things to me. The thing I turn to regardless of what I need. I suppose music's purpose changes depending on where I'm at in my life. Right now music is a very joyous and energizing outlet. At other times it has helped me through challenges in my life, and has been a confidante, a confessional of sorts. But I don't think that I've ever experienced the pure enjoyment around music as I do right now. There's almost an innocence to it – one that's quite extraordinary."
"We have all kinds of plans for the near future, but they'll unfold gradually", she says with growing excitement. "We're building the foundation for a whole new career for me. This time on my own terms."
Speaking with the candor, yearning and unadulterated vision of a newly arrived artist, Janita is a paradoxical figure - she is a seasoned pro with eight records out who has just released what could be termed a debut album. If 'many times published debut singer songwriter' sounds like an oxymoron it is because we are not taking into account that Janita had been the voice for other collaborators for years - people who often lived vicariously through her skills. Having finally abandoned the Good Ship Lollipop, thrown years of baggage overboard, Janita arrives reborn in Didn't You, My Dear?. No longer the great blonde hope for others, she has become a self-styled artist in her own right.
As for the many Finns who still think about Janita as a 'guilty pleasure': I am here to assure you, it's okay to come out of the closet. Civilized listeners everywhere will confirm that you are not alone.