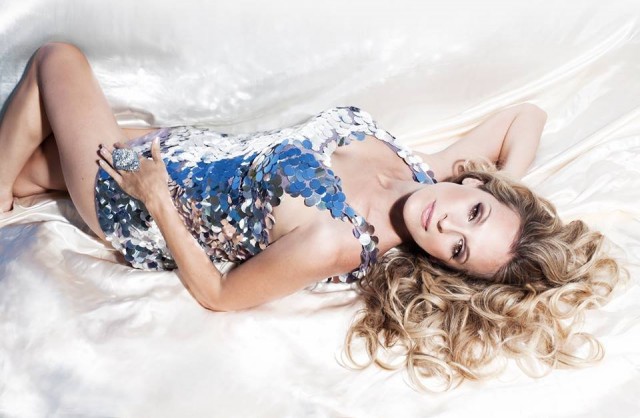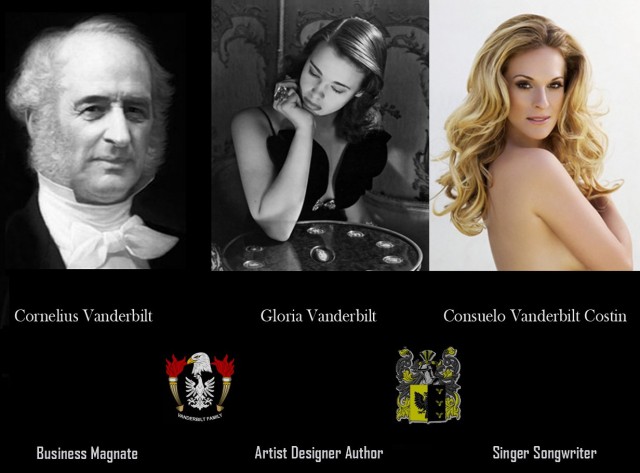 The following is based on a series of conversation I had with Consuelo Vanderbilt Costin earlier this year in NYC :
"The fame you earn has a different taste from the fame that is forced upon you", stated Gloria Vanderbilt, the renowned artist and designer. The implications of this statement are evident when it comes to Gloria's own career as well as that of her remarkably gifted young cousin, the singer songwriter Consuelo Vanderbilt Costin – the direct descendant of the late great tycoon, Cornelius Vanderbilt.

Although it may sound odd, Consuelo has made a name for herself despite (sic) her surname's financial legacy. I use the word 'despite' because we often begrudge those born into privileged circumstances of the accolades their art might otherwise merit. In an effort to distinguish artistic gravitas from monetary gain, we've romanticized hardship till it smacks of posthumous critical acclaim while erroneously associating poverty with the inception of creativity. Though history is replete with iconic figures the likes of Lord Byron and Elizabeth Barrett Browning whose not-so-humble respective origins did little to dampen their poetic gifts, our mystification of the 'suffering artist' continues well into this century. Nowhere is this more evident than in post-80's rap where 'Street Cred' had, for a good ten years, become synonymous with 'profundity born of thug life'.
Still, despite the PR value of an underprivileged background, it's hard to deny exceptional talents like Carly Simon on the grounds that her father co-founded the Simon and Schuster Empire. Nor would it be savvy to underplay the value of Lily Allen or Julian Casablancas (of The Strokes) simply because of their fortunate upbringing. Likewise, it would be insane to ignore the most recent singer songwriter discovery to take center stage in the form of Consuelo Costin – the heiress who could easily have gone on to live the trouble-free existence of a debutante.
Taking the road 'less traveled', Consuelo has altered the course of her life and made all the difference to the millions of fans who now regularly enjoy her music. With her first dance hit single Naked having peaked at #11 in the Billboard charts and her follow-up single Feel So Alive hitting #2 spot for Breakout Artist of the year, it did not take long before Consuela's recent Here We Go garnered the attention of US and European DJ's alike, thrusting her into UK Commercial Pop top 30, German DOC top 50, US Dance Billboard top 15 and a myriad of other chart-topping categories.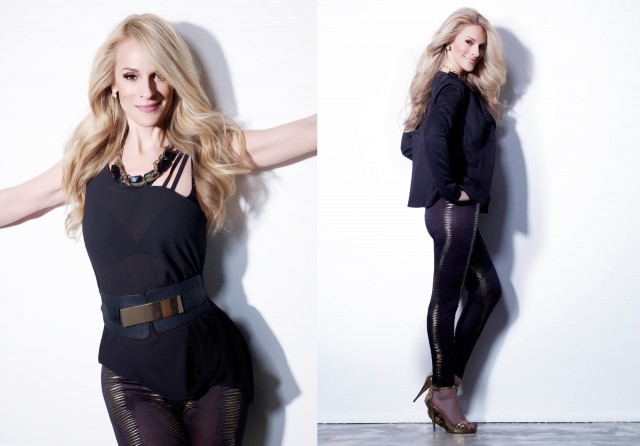 With an air of Sylvia Plath from her Mademoiselle magazine years, Consuelo enters the room brandishing a brand of sophistication that bears an impish afterglow. Focused, determined, there is nevertheless an edge of wanderlust to her eyes - they seem to have a hard time settling into her otherwise relaxed and elegant features. We are both at her house party and she has no idea who I am but she greets me with both genuine warmth and interest, her presence instantly putting me at ease. Ella Fitzgerald's rendition of Summertime wafts through the room as she offers me some bubbly in perfect time to the music. Consuelo is deference and whimsy in equal measure. Though the spacious Upper East Side apartment is clearly her own, there is an uncanny sense that she is not certain whether she belongs here. Sauntering from guest to guest, she remains a finely poised question mark, a nomadic spirit hovering just beyond her own regal form.

Although born in New York, Conseulo spent her formative years in London where she attended boarding school and understood firsthand what it meant to be bullied. "I was an outsider of sorts, teased quite a bit", she admits with a charmingly self-effacing smile. "In those days, music became a refuge. I recall putting on my headphones and escaping into a different world - one that was far from the taunting, immune to what others were saying. I understood then music was a powerful coping mechanism. It's one of the reasons I still write music to this day – to give others that same sense of protection, an emotional space in which they can hide". That the little girl who once fell asleep listening to Madonna's Cherish still spends a great deal of her time devoted to supporting gay rights is in no small part thanks to her belief in music's ability to bring solace while simultaneously delivering a valuable message. Having performed two years in a row at Washington D.C.'s Capital Pride, she is aware of the potential that performers have when it comes to uniting people and fostering awareness and understanding.
From the age of 11 when Consuelo tried out for the school choir and, as she acknowledges with endearing flourish, "failed miserably", to the six months she then spent taking singing lessons so that she was not only accepted as a choir member but became the loudest little voice therein, her life has been about expressing the full range of her emotions in musical form.
"By 17, I had moved from London to Florence", explains Consuelo; "Two years later I was performing with a German rock band." Her insouciant reveries take a more pensive turn. "I had a bad car accident at the age of 19 and if it wasn't for my mother…" she pauses in an effort to avoid tears before willing herself to continue at full throttle: "The point is she supported me and it was my mom who made me more determined than ever. A year or so later and I already had my first contract." It was also shortly after this time that, tragically, Consuelo's mother was diagnosed with ovarian cancer. "I wrote Better Days as a tribute to her", explains Consuelo. The American cancer Society ended up licensing the song while proceeds from her other single Find A Way were donated to the Ovarian Cancer Coalition of Great California, an organization in which Consuela retains her role as Vice President. To this day, Consuelo maintains a close relationship with many charities, donating much of her time to fund raisers while also performing regularly for a battery of worthy causes.
"While I love collaborating with other artists" (a fact that is evident after her recent work with producer Peter Amato of Miley Cyrus, Ricky Martin and LeAnn Rimes renowned), states Consuelo, "if I wouldn't have need to write, I wouldn't be singing. Every song I do is based on my own experiences… they are literally ripped from the pages of my journals. So while I am enthralled with the notion of putting on a big show, having catchy hooks, working with exceptional talents and making a real connection with an audience, it's equally important that I am expressing something real, something that is an integral part of my very soul".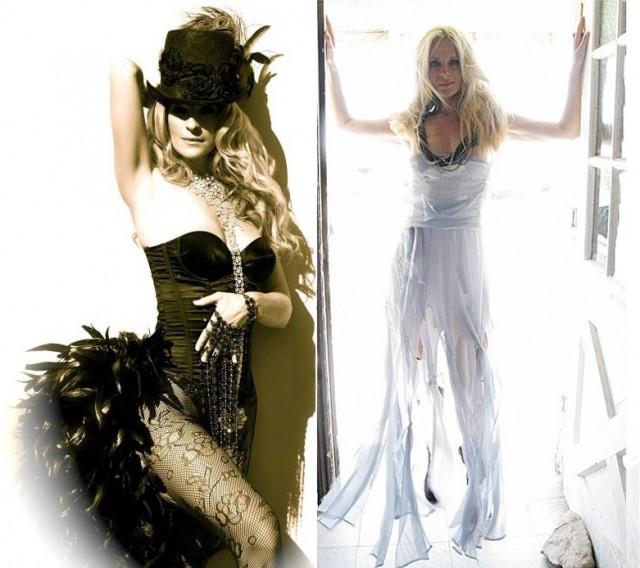 And Consuela's soul certainly seems to go a long way. Take the song Naked and what you get is a young woman's honest confrontation with the perennial morning-after and the gamut of self-deprecatory emotions conjured forth. This, while Here We Go remains an evocative celebration of living in the moment whether that means getting down and dirty on a dance floor or simply having some raunchy fun. As for Feel So Alive, it is a timeless paean to the inexplicable magic of love and all the romance associated with the heightened mood. "To be honest", Consuela ebulliently states, "I had become obsessed with the Fred Astaire / Ginger Rogers classics – that era, the unself-conscious over-the-top romanticism of that world, the classy headiness and beauty of it all… and, well, it inspired the idea for that song." The moods seemed to have been authentic enough to translate well in video form with Feel so Alive mustering 700,000 views and reaching #1 in the Pop Music Top 100, while Here We Go – released in Germany, Austria and Switzerland – surpassed 650,000 Youtube hits in under 10 days time.
Having shared the stage with legendary artists like Joe Cocker, Vanessa Carlton and notables such as Mya and Tweet, Consuelo went on to touring the South of France, being on Germany's ZDF Show, and, more recently, appearing on Taft-Rockin' Berlin which aired on Pro 7, the country's largest TV station earning the network a record 5 million viewers. With an estimated 50+ million listeners in countries as varied as USA, UK, Germany, France, Vietnam, Mexico, China, and Brazil - just to mention a few – it is clear Consuelo's success is far from abating.
"The truth is I am as comfortable with large audiences as I am with more intimate venues", reflects Consuela with a girlie shrug. Her idiosyncratic approach to her art ensures that she is forever engulfed in numerous projects and thrives under a chaotic schedule. "One minute, I'm there singing God Bless America at Dodgers Stadium and the next I'm performing at Fashion Week in NY and LA. Yes, they're very different audiences but change is challenging."

And change is certainly not something Consuelo shies away from. While she is an avowed Jazz aficionado enamored of smoky melodies that demand a sultry big band sound, she is enthusiastic about incorporating soulful reggae motifs into her repertoire. "Let's put it this way", explains Consuelo, "I spent much of my youth visiting the Caribbean and taking in the vibrant world that is Barbados… and, yes, it has definitely made an impact". Forever on the prowl as regards musical nuance, Consuelo does her best to keep up to date with beat makers the likes of David Guetta and Calvin Harris. "Part of being a good musician is keeping your ears open", she unequivocally announces, "It is an essential to know what's going on and to be in a constant state of reinvention without sacrificing the essence of who you are".
It is not surprising that Consuelo had begun her own label, C&R Productions as far back as 2011. With a new jewelry line slated for release in the upcoming year as well as taking on the role of ambassador for Mercedes Benz's new fragrance, it is clear that Consuelo is at her best when multitasking. Like Gloria Vanderbilt whose interdisciplinary approach to life made it possible for her to be an artist, designer, author, actress as well as a socialite, Consuelo seems well on her way to receiving the level of fame that is earned rather than inherited. And, like her ancestor, the late Great Cornelius - who had gone from rags to riches - Consuelo had gone into a field where she knew nearly no one to being someone many in the music industry know. Listening to Consuelo's recent releases, one can hear that she is less 'to the manor born' than someone who has been reborn.
Yeah; the article being over, I might as well leave you with a brief magazine version of a Playback :