Reprinted with the permission of the New York Resident Magazine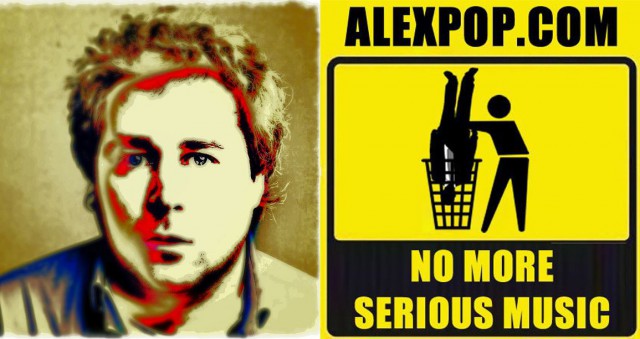 HALF-GEORGIAN HALF-RUSSIAN, ALEX POP SPEAKS FLUENT MUSIC
By Rory Winston
Joseph Conrad, Vladimir Nabokov… Not only had some brilliant English writers hailed from non-English speaking countries but a gifted few had even managed to surpass their native counterparts in terms of eloquence and nuance. So why was I surprised. Why did it seem strange – in a medium that didn't even depend on a spoken language – to find someone from a remote region of the world who could 'outBrit' the Brits in their own pop idiom? And why did it take me five extra months to discover something I would have known right away had I simply listened to a loyal member of my radio audience. But there you have it. Preconceptions. Prejudices… Just enough reservations that even after I heard the electrifyingly catchy song Wanna be your Man, I'd still hold back a few extra weeks before really giving into the world of Alex Pop.
A few months back, I spoke on air about how absurd it was that we know so little about what's going on in terms of pop music in a region as large as Russia. Minutes later, a listener called in to say that if I was genuinely interested in familiarizing myself with a truly multi-talented artist from that part of the world, I should check out the half-Russian half-Georgian Alexander Ross-Iver whose Alex Pop Project was one of the more exciting things presently going on.
Though I prided myself on being relatively open-minded, my imagination immediately culled forth images of ancient folk instruments playing in an abandoned hall where some long forgotten Eurovision type contest had once taken place. I could almost hear the Chuniri and Abkharza doing eclectic jazz-meets-ethno fusion riffs. After all, aside from world music and classical, the only contemporary act I was able to associate with Georgia was the alternative psychedelic indie rock artist, Sophie Villy – a minor celebrity with esoteric hipster appeal, one who left my colleague smitten after a concert at the Bitter End. Remove the elusive Georgian siren from the picture, and my mind drew a blank as regards contemporary pop music from that part of the world.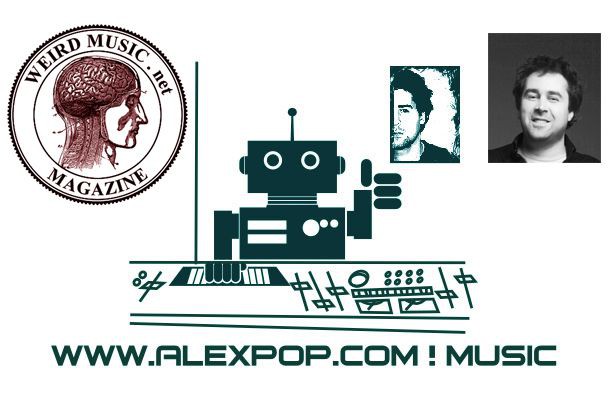 I could not have been less prepared for what I was about to encounter in the media-savvy form of Alexander Ross-Iver, the artist responsible for the lucidly warped and beautifully dysfunctional realm known as the Alex Pop Project. As the brainchild of Ross-Iver, the Alex Pop Project is a parallel universe where a carefree anarchist Alex Pop juxtaposes over-the-top romanticism with playful irony, flamboyant glam rock motifs with a dressed-down minimalism, and happy hippie moments with R&B vocal flourish; the result being: a catchy Brit pop sensibility infused with an experimental electro edge.
But it would be a mistake to dismiss Alex Pop as being merely Alexander Ross-Iver's id at work when, in fact, the elusive superhero could just as easily represent an alter ego for our own self-conscious age. Describing his métier as that of an anti-serious composer, Alex's vision is in line with Nabokov's comment that "the evolution of sense is in a sense the evolution of nonsense." Offering forth nostalgia without the overdose of retro aesthetics,' Alex refuses to play it safe. There is no 'kitsch in quotation marks', no calculated homage to an earlier time when art had a political message. Alex is a self-confident creature who doesn't seem to give a damn whether critics believe he is being ironic or not. Nevertheless, for all the individuality, it was hard not to notice an ongoing allusion to iconic British forerunners like Placebo and airier Nordic artists like Ólafur Arnalds . Where were those references coming from and why the distinctly non-Slavic tendencies?
ZERO GRAVITY
Several years ago, I had a long conversation with Yann Tiersen, the renowned composer behind Amelie. Being interested in his oeuvre, I asked him whether French bands such as Indochine, Taxi Girl, Parabellum had left an impression on him. Giving me a quick once-over, he laughing confided, "Not even slightly" before going on to explain how he didn't even know about Erik Satie, Michel Legrand or (Belgian) Jacques Brel till much later on in his life. As it turned out, Tiersen's influences were bands like The Clash, Nirvana and Einstürzende Neubauten. Being from Brittany, he, in fact, had almost a mild aversion to anything from the mainland. Like Yann Tiersen, Ross-Iver had – from very early on – a cultivated taste for music that was very distinct from his geographical location.
For Ross-Iver avowed influences included Brian Eno, Phillip Glass, The Knife, Kraftwerk, Yello, through to Yonderboi and La Dusselldorf. With a band-like dynamics recalling (Sebastian Gainsborough) Vessel's Punish Honey, Ross-Iver's is less about riding a single genre to the end than about finding a musical fit for a given mood.

As with Ten Walls and Olof Björn Dreijer there is a cinematic essence in much of Ross-Iver's work - one that creates its own space, one capable of absorbing quirky alternative motifs and making sense of them within a cohesive dramatic soundscape. This strategy works out well in songs like Fire Inside – a collaborative effort between Alex Pop, Icelandic indie producer/songwriter Gisli Kristjansson and Norwegian singer/songwriter Eliza Newman (formerly of Bellatrix). Having heard a rather progressive Alex Pop composition entitled Haused 2, Kristjansson thought the piece would prove perfectly suitable for an ambitious but radio-friendly alt pop song, the result: a 'James Bond rollercoaster' of a ride through a Sia-esque ethereal vocal landscape. Harnessing an aerial feel akin to Andrew-TVOTR-Sitek's lush harmonic realm and bringing it into an icier minimalism akin to Oni Ayhun, the song makes use of both grittier industrial elements as well as transcendent vocal spheres.
More recently, Ross-Iver went on to create a song that features none other than the legendary Les McKeown of Bay City Rollers renowned. Wanna be your Man is a catchy U2-meets-Alan Wilder's Recoil with a bit of punk attitude thrown in for good measure. Sung with utter abandon, the song's hooks and élan make it feel like a fun-loving ode to the glories of adolescent lust. Neither camp enough to be written off as a genre piece nor earnest enough to pass for post-ironic posturing, the mood teeters precariously between two eras – a makeshift world wherein the McKeown of the 80's continues uninhibitedly to thrive within a contemporary mise en scène. As the video itself indicates, McKeown remains his laidback self - older but luckily no wiser, swaggering down the yellow brick road of virility. Unabashedly smelling of teen spirit, McKeown like the production reeks of confidence. It neither hides the 80's influence nor does it fetishize it. It is simply comfortable in its own skin and has the groove to prove it.
In reality, one common denominator in Alex Pop's repertoire is a sense of swing. Never lacking in rhythm or tension, his tracks have dynamics throughout. From funk-infused sections to Jazzier asides, his songs inspire movement. Stringing together a battery of distorted vocal samples, he creates a uniquely organic atmosphere whose industrial edged moments remain free of the angst typically associated with that genre. Ross-Iver is what Trent Reznor might have sounded like had his therapist been Nicolas Godin of Air.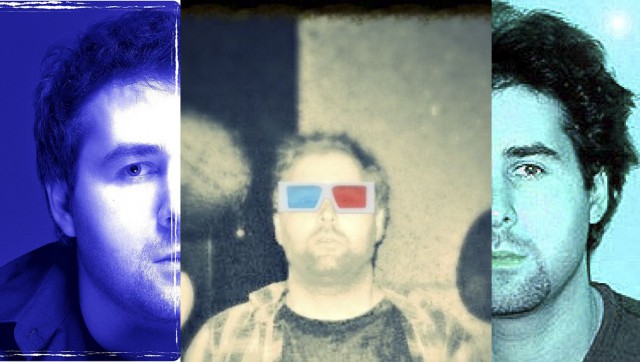 Beyond the music, there is another aspect to the Alex Pop phenomenon. It is the establishment and maintenance of two complementary websites whose premise can best be likened to an ongoing concept album. One of the sites called UKTop40Charts.com appears as though it were an official unbiased top-of-the-charts site (such as Billboard.com, officialcharts.com, or the ones provided by Voice, MTV, and BBC respectively) while weirdmusic.net reads like a label's website – one whose focus is electronic, experimental, alternative and indie music. Besides being promotional venues, the sites are filled with interviews where Ross-Iver gives us the up-close-and-personal perspective of both upcoming and established artists.
In an industry where recognition depends as much on contacts and generating attention as it does on talent alone, Ross-Iver has turned himself into everything from his own publicity magazine to being his own product. Like those golden Hollywood figures of lore, Samuel Goldwyn and Louis B. Mayer, Ross-Iver has created a parallel universe wherein he could become his own greatest discovery without once having to compromise the caliber of his art. The ingenuity and creativity involved with this feat is a testament to both his vision and his perseverance. With noteworthy mentions and rave reviews from many of the most lauded names in the industry, Ross-Iver is finally beginning to receive the kind of acclaim he has long deserved.
Having recently teamed up with producer John McLaughlin (Westlife, Calvin Harris, Emeli Sande etc.) to create a new brand of indie-pop, the Alex Pop Project is also in the works on a new album with the chart-topping team of Christophe Chantzis (LeAnn Rimes, Ace of Base, Dee Dee etc.) and Erik Vanspauwen. With scientists rather than musicians for parents, Ross-Iver is a one man laboratory whose art runs the range from electronic music to hitmaker to film score composer to producer to magazine owner to journalist to digital artist and painter. In short, Alex Pop has made music his nationality and experimentation his permanent place of residence. Nabokov is quoted saying that "a writer should have the precision of a poet and the imagination of a scientist." As the son of a scientist, Ross-Iver can easily one-up Nabokov by claiming that a composer's precision and imagination is enough to create a language free of nationality and one that is understood by all.